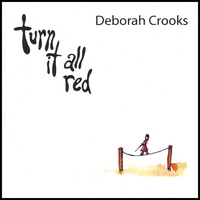 Last year, I met Trevor at Steven and Frannie's annual's "A Buddhist and A Pagan Throw a Christmas Party" and he went on to play bass for me at a number of gigs and several recording sessions. Likewise, Steven mixed several of those songs in his Snoring Dog Studios. At this weekend's fest, once I waded through a very crowded houseful of Buddhists, pagans and everyone else in between, I was able to hand them both a completed 5-song CD. Yay! And Steven had set up a full band kit and sound system in the garage so after noshing, we played a set. (Guests got a full show as Shawn Shaffer then did some blues with Karen, followed by Steven's band and another songwriter down from Marin, played some country.) Double yay.
Monday, I convinced a friend that it would be a good idea to go see
Aimee Mann
's Christmas Party at
Bimbos
(her second of two SF shows).
Chuck Prophet
and
Sean Hayes
, two local artists who do SF proud, where her guests du tour stop. A very quirky show ensued, complete with a comic commentary by
Paul F. Tompkins
, and a three part video "Aimee's Christmas Journey." The evening was silly, slightly awkward and inspiring all at once. Aimee's originals (including a new one with a chorus along the lines of "you have a lot of money but you don't have the freeway") were highlights as was Hayes' brief set ("I don't have any Christmas songs but I do have a song about getting it on with Mary Magdalen" he explained before launching into that tune). Perhaps it wasn't the best segue into more holiday inspired bantor but Prophet's turn certainly gave the set a shot in the arm--he came onstage like a horse out of the gates to rock out for a couple of songs. Good stuff. SF music is making me happy these days.